Un Esprit en Plus is a story about a brother and a sister who share a taste for different materials, and a passion for brocante.

Pascale, with a degree from the Arts Deco of Paris, worked for 10 years as advisor in arts and creativity to large French corporations. Stéphane, a horticulturist for 20 years in the Grenoble area, brings a harmony with nature that is a distinct style in their creations.
Un Esprit en Plus has become known in Europe for their zinc blackboards, wire bells, jute strings and pre-washed linen table ware. Rusted letters and baskets set against brut woods and mosses offer a gently rustic look that will find its place in even the most modern home.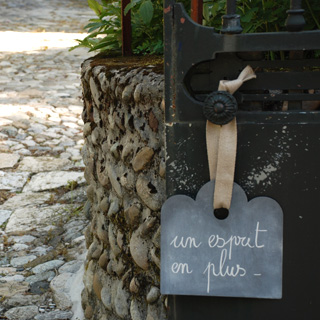 See more collections: Recup' par Hasard, Esprit de Luna
See our creations: Collection 55, Anna Fleberg
Download the full Esprit en Plus catalogue (PDF, 2.3MB)